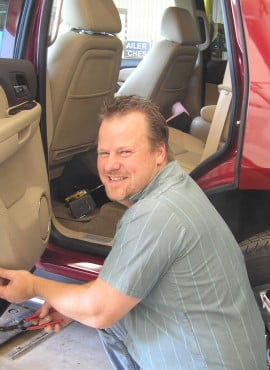 Jeff Czech is the owner of Czech Auto Body & Towing. Jeff started his career right out of high school. He loves all aspects of his business such as customer service, auto body work, and towing, although his favorite is working side by side his employees using his decades of experience repairing and accessorizing vehicles.
When Jeff is not working he likes to go hunting, fishing, cruise on his Harley, or spend time with his family.
Sarah

Czech
Office Support
Sarah Czech assists customers with the repair process and insurance claims. She informs our customers of any changes along the repair process. After all, providing excellent service to customers isn't just a goal – it's what we strive for.
Growing up in the Pierz area she spends her time outside of the office with Jeff and her family, traveling, and checking out little rinky dink joints along the way.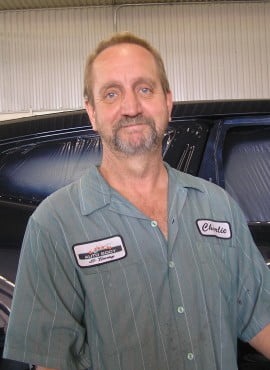 Charlie

Gocken
Body Technician/Painter
Charlie has spent most of his working career in the auto body business. He spent many years as a sales representative for a paint refinishing & supply company. He joined the team at Czech Auto Body over 15 years ago.
When Charlie's not working he enjoys riding his Harley or being with his family, especially his grandchildren. If you stop at the shop you will likely catch Charlie singing along to the radio, even if he has to make up his own words.
Kyle

Rodewald
Painter/Technician
Kyle Rodewald is a talented painter at Czech Auto Body. He has been a car enthusiast his whole life and has been working on cars professionally for over 14 years. A graduate from Wyo Tech college in Laramie, WY Kyle takes great pride in his work whether doing the repair or painting the vehicle. Kyle is married to his wife Brianna. They have 2 beautiful daughters, Natalie and Elena. When away from work Kyle likes to spend time at their cabin enjoying the outdoors with friends and family.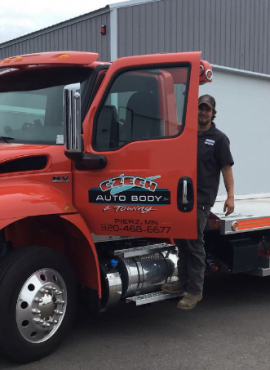 Tyler

Boser
Towing Operator
Tyler Boser is our full-time Tow Truck Operator, Tyler is the friendly face you'll see when we're called out for roadside assistance. With being originally from the surrounding area he's sure to get you back on the road in no time.
Anthony

Hettver
Estimator & Shop Manager
Anthony Hettver – Czech Auto Body's shop manager. He can assists our customers with estimates and insurance claims. If you're looking into a Fisher or SnoEx plow give Anthony a call. Anthony is a graduate from Wyo Tech college in Laramie, WY. He's surrounded by some of the best auto body repair technicians around at our shop. Anthony is an outdoors man. Enjoys 4-wheeling, tubing, and hanging with his dog Bo.
Lacey

Lanners
Office Support
Lacey is the first friendly face you'll see as you walk into our office. She assists our customers with insurance claims, general repairs, glass claims, and roadside assistance.
When Lacey is away from work she enjoys helping her dad and uncles farm. She loves the great outdoors.
Josh

Rocheleau
Technician
Josh Rocheleau is an Auto Body Technician for Czech Auto Body.